Yeah. It's official. I have. Lost my mind that is.

Or was it all a dream? Or too much wine? Or too much diet coke with a fresh lemon wedge that has finally affected my memory?

Because I think I parked my tootie tot in my big ole leather chair all day a couple of hours Saturday to set up and launch a new blog. A little something something called "Blog Around the World."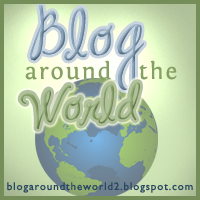 What. was. I. thinking? I wasn't. I didn't. Well I did. But, now I'm thinking I wish I was getting paid for this hobby of mine. Gotta work on that.
But I've still lost my mind.
However, you know what? It's fun. I love writing. I love making new friends all over the world. And I love connecting people together. And I love that my husband is my biggest fan, supporter, cheerleader and financier of it all. If he wasn't behind me in all this, I'd still be blogging to myself.
Doesn't matter. Mind. Gone. Kaput. Bye Bye
Because not only did I launch the site, ignore my family, ignore this blog, and ignore your blogs, I agreed to guest blog for Sarah over at
Like A Warm Cup of Coffee.
"
Yup, I've lost my mind.
But I am honored that she thinks enough of me to write for her while she is basically bed ridden in the early stages of her second pregnancy. So friends, since I spent all my creativity on her post, I am sending you over to
Like A Warm Cup of Coffee
to give Sarah some comment lovin' in the way I know all us blogging Mama's do when one of us is feeling a little blue or under the weather.
Meanwhile, I've gotta go find my mind.
Now where could it be.....
Got any ideas?